| Buying | Cooking | Freezing | Microwave | Recipes | Storing | Tips |
To submit a Crappie recipe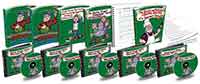 Step-By-Step "Instant Crappie Catching Tricks"
If you would like to be one of the select few who are able to catch 3 lb Crappie than you need to check out this course on tricks to make you a Crappie Master! The course consist of 6 ebooks and 5 audio files with a checklist.
Get Your E-Kit Now


---
Spray cookie sheet w/ PAM.
Spread crappie fillets evenly.
Drizzle w/ crushed garlic in melted butter.
Sprinkle w/ bread crumbs.
Season w/ salt & pepper or fish seasoning.
Broil until slightly browned.
Top
---
1 1/2 cups of yellow corn meal
1 egg
1 cup of milk
salt and pepper
6 or 8 crappies fillet
Peanut oil for frying
Soak fish in milk for 1 hour (takes out fishy flavor). Remove the fillets from milk Sprinkle with salt and pepper and then roll the fish in corn meal. Drop the fillets into a deep frier and cook the fish until it floats.
Top
---
1/3 pound Crappie fillets per person
2 cups dry Pancake Mix
Salt
Oil for frying
Lemon and Pepper seasoning
Cocktail Sauce
Wash and dry fish. Dip fish into water. Sprinkle with salt and lemon pepper. Coat lightly with pancake mix. Fry in deep fat for four or five minutes, or until fish flakes easily.
Serve with cocktail sauce.
Top
---
This is really a great recipe for a lite breaded fish fry.
25 large crappie filets and cut into 1 - 2" pieces.
Place in a bowl of ice water and refrigerate for 15 minutes.
Store bought Tempura Fish Batter, follow mixing directions.
Add 1/2 teaspoon garlic powder
Add salt and ground black pepper to taste
Add ice cold water and mix (follow mixing directions)
Mix should be thick enough to stick, but thin enough to easily drip.
Add 1/2 teaspoon soy sauce (optional) and mix.
Juice from 1/4 squeezed lemon (optional) and mix.
Remove cut fish from ice cold water and dab with paper towel to remove excess water.
Dip in batter, let excess drip off and place in deep fryer or frying pan with enough hot oil to cover fish pieces completely. Remove when lightly brown (about 3 minutes)
NOTE: it is very important to use ice cold water. This helps the thin batter stick!!!!! ENJOY!
Top
---
1 Lb. of Crappie Fillets (6 to 8)
1 can cream of mushroom soup
1 cup shredded cheddar cheese
paprika
Spray baking dish with Pam, season fillets and put in baking dish. Put cream of mushroom soup over fillets (undiluted) top with grated cheese and sprinkle paprika over top Bake at 350 degrees for 20 to 25 minutes Can be put over noodles or rice or just as a main dish.
Top
---
| Buying | Cooking | Freezing | Microwave | Recipes | Storing | Tips |

If you got to this page from a link and would like to view the rest of our site click here.