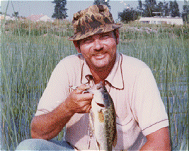 Dennis Bryant is a 35-year veteran of the 'Bass-wars'. A fisherman since his formative years in California, Mr. Bryant has called Toledo Ohio on the quiet shores of the 'monster of lakes', Lake Erie, his hometown for nearly a half century now. He became addicted to Bass fishing when he caught his very first Bass (7˝ lbs) accidentally, while fishing for Crappie, during a family 'camp-out' in Canada in 1965. It's been all downhill since then!
He joined the brand-new Bass Angler Sportsman's' Society in 1966, and became a Charter Life-Member the next year. He graduated from the original 'American Fishing Institute' at the Indiana State University, in 1980. Tournament fishing seemed to come naturally! From 1967 to '93 he fished an average of 25 cash-tournaments a year, and spent more than 100 days a year on the water fishing/guiding for Bass. He was a 10-time qualifier in the State of Ohio B.A.S.S. Federation "Mr. BASS Classic", a 6-time 'Team-Ohio' B.A.S.S. Federation team-finalist qualifier, 5-time Ohio B.A.S.S. Federation individual-team qualifier, had 14 Circuit 1st-Place finishes, and 181 top-ten finishes; add to the Bass Fishing successes; 2 'Top-Ten-Team' finishes, out of 4 entries; in the Great Lakes Sportsman's Assn: Lake Erie Pro. Walleye Tournaments.


Raising a family & having to buy all those expensive lures (half of which did not't work straight from the package) led to making some of his own. Taught by some of the best 'garage-mechanic lure-makers' of the 'North Coast'; he started making his own spinnerbaits back in 1970. Sold his first lures after using them to post an opening-tournament win on the Ohio River, in the 1971 'Open-Circuit'. He's been using and making his "made-just-for-the-buyer" custom-lures ever since then; as the owner of the ZAP Custom Lure Company in Toledo, Ohio.


A "real-job" injury in 1993 forced an early-retirement, and caused lure making to take the place of tournament angling; allowing the business to become a full-time enterprise. Once again, fishing, guiding, and teaching the finer points of the sport to younger anglers; is a hobby!
Dennis is a very welcome addition to our Pro's Section. We feel that you will find his articles very informative. If you ever get a chance to try his products you won't be disappointed.

If you have a question or comment for Dennis please feel free to drop him a line at: TheFishingProfessor@bassonhook.com