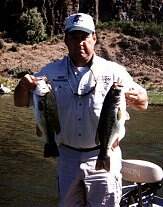 Mike has been Tournament angling for 5 years now and is currently in the American Bass Association of Washington circuit.
Mike has also qualified to compete at the regional tournament for American Bass Association at lake Shasta in October 2000 representing Washington for the pro-team format. Mike qualified 4th overall.
Mike competed in the NW classic 2 years in a row and also competed in the Cast for Kids tournament held on the Columbia River.
Favorite technique: fishing plastics, fished split-shotted, Carolina rigged, or drop shotting. Favorite water: Columbia River.


Mike is a very welcome addition to our site and is sure to keep you interested as you read his articles.