West Coast Vancouver Island Spring Opportunities
By Jason Mohl

---
Breaking free from the grasp of another West Coast winter has many positive effects on the people that inhabit and enjoy "life on the edge"
The surrounding environment continuously reminds us of the seasonal changes, currently showing marked advances into more spring like conditions. For many of us, these natural reminders automatically turn our thoughts to the different fishing opportunities once again available for us to enjoy.
The winter months do provide anglers limited chances to "get their fix" of some of Mother Nature's finest, but on the West Coast of Vancouver Island, April is the true start to another fantastic and diverse season of freshwater fishing opportunities.
Your efforts should be rewarded with the three main Species that inhabit the waters of the West Coast. Steelhead, Cutthroat and Rainbow Trout provide excellent quarry for the early season angler.
Aside from the strong runs of winter Steelhead that return to the Stamp-Somass and Gold Rivers, the majority of West Coast Steelhead are spring-run fish.
Warming temperatures and the ensuing spring run-off encourages these true Native Gems to ascend the small to medium sized rivers along the coastal inlets. To target these elusive sea-run Rainbows, your timing is very important as the rise and fall of the river will move them quickly within the system, here today gone tomorrow often describes it well.
Gear anglers should down size their presentation to small B.C. orange gooey bobs, 4 inch pink worms and single Jensen or wool eggs. Marabou Jigs are dynamite on spring Steelhead, so give them a try. Remember to check the regulations as most waters on the West Coast have a bait ban.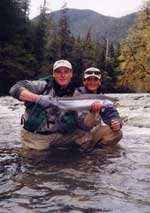 Fly Fishermen have excellent opportunities to hook up with well presented Wet Flies at this time of the year. Along with 7-9 wt. rods, be prepared with a variety of sinking tips, enabling you to effectively fish all the different types of holding water common to coastal rivers.
Weighted flies will help you stay in the "zone", undoubtedly promoting increased hook-ups. Don't leave home without some Marabou patterns, Lead-Eye Leeches, Single eggs and a few Shrimp imitations like the General Practitioner.
There are numerous streams to concentrate your efforts, with many of these systems being somewhat remote. Studying local maps and charts will show the many drainages scattered throughout the West Coast inlets.
As the spring progresses through May and into June, water temperatures start to rise in most coastal lakes, encouraging the feeding habits of the resident Rainbow and Cutthroat Trout to kick into high gear.
The aquatic life starts to flourish at this time, so watching the different hatches of both insects and small baitfish, can be beneficial to all lake anglers.
Most trout will go for the standard bobber and worm technique, but try and challenge your angling abilities with the more interactive methods like fly fishing or working structure with small spoons and spinners.
Using light spinning gear or fly rods in the 5-6 wt. range, Rainbows prefer offerings like small Egg-Sucking Leeches, Half Back Nymphs, Chironomids, Gammarus Shrimp and Carey Specials. Bolo Spinners are a favorite that has brought many fish to hand.
Cutthroat Trout focus on the insects as well, but have a definite liking for any available baitfish that are known to make up their diet. Minnow type flies are good producers for these aggressive trout. Sticklebacks, Rolled Muddlers, various fry patterns as well as some brighter attractors like the Mickey Finn. Hardware to strongly consider are items like Panther Martin spinners, Flatfish and Crocodile spoons, remembering that black, yellow and red are popular Cutthroat colors.
This time of the season also finds the lower portion of most river systems in the area a prime target for great Sea-Run Cutthroat action. These anadromous trout are encouraged to frequent the lower stretches of coastal streams and their estuaries due to the downstream migration of small Salmon fry.
During this vulnerable stage of the Salmon life cycle, the fry rely on safety in numbers, and these numbers can turn the Sea-Run Cutthroat into a voracious eating machine. Watch for rolling fish or underwater flashes, indicating feeding activity, then try small silver spoons or spinners, or fry patterns like the Egg-n-eye to connect to one of these feisty Yellow-Bellies.
If you haven't realized already, Vancouver Island provides some of the World's finest outdoor opportunities, so get out and experience for yourself just why we have become such a popular destination.
With a limitless amount of pristine areas and waters to explore, and the rewards of some fantastic freshwater fishing, this is one type of "Spring Fever" that you will look forward to for years to come.
Jay Mohl-Clayoquot Ventures
Tofino, B.C. Canada
Contact me with your questions or comments at