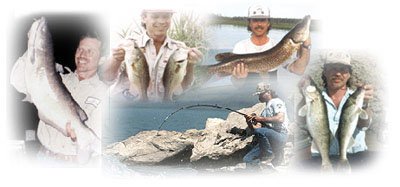 Ted Ellenbecker has broken over 30 line class records registered with the Hall of Fame and the International Game Fish Association (IGFA), covering a large variety of species. Two of the most notable groups of records fall in the Catfish division (rod and reel), with fish measuring out at over 39 inches!
A resident of South Dakota, Ted does much of his fishing in rivers that flow into the Missouri River. Fishing abroad, he has caught record fish in several states. He knows how to fish many different types of water, making him an avid and versatile fisherman and tournament pro.


In 1999, Ted was nominated to the Fresh Water Fishing Hall of Fame as a Legendary Angler. In 2000, Ted's major efforts have been the inclusion of two segments in the North American Fisherman's Educational Video to be released soon. Ted also was included in two television shows with the North American Fisherman that will air in the spring of 2001. Ted also filmed and participated in several radio shows with Tony Dean.


Check out Ted's fishing tips show, The Outdoor Page, on the Fox network every Tuesday and Thursday at 11:55 a.m.
If you have a question or comment for Ted please feel free to drop him a line at: Ted@bassonhook.com