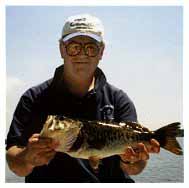 Born in the UK, Charles began fishing when he was 6 (six) years old. At 16 (sixteen) he joined the London Angling Association and began competing in local club tournaments. Charles won the Junior Championship at 17 (seventeen) and then moved on to the senior level. After a few "close seconds and third place finishes" Charles won the Southern Championship 4 (four) times.
After travelling around the world working in the aviation industry he finally settled in the US in 1986 living exclusively on Long Island where he learned how to catch largemouth bass using his European style of fishing from the shoreline.

One day while fishing he was told by another angler that competitive tournaments were held in the US for the fish he was catching. That was all that he needed to hear and for 9 (nine) years he began the long road of club level and regional level tournaments.

5 (five) years later, Charles now fishes professionally on the Bassmasters Invitational circuit and the RED MAN and Foxwoods trails. He has written many articles on freshwater fishing for newspapers and for Internet sites.

Charles is a New York State Guide and recently "starred" in his first TV
commercial. Charles is a very welcome addition to our site and is sure to keep you coming back.
If you have a question or comment for Charles please feel free to drop him a line at