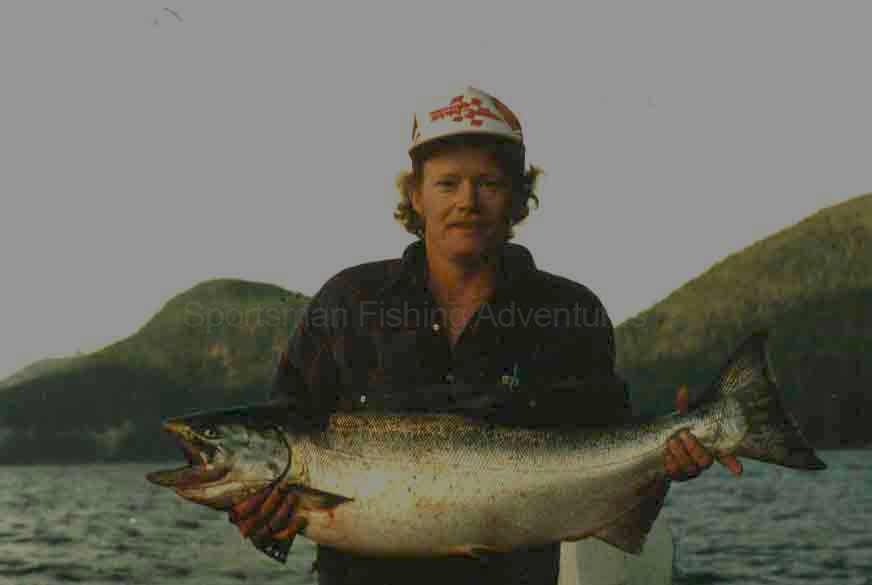 Paul is the owner of Sportsman Fishing Adventures Ltd in Gold River, British Columbia Canada.. He is also the new owner of Bass on Hook Inc and a freelance photojournalist. He has over 15 years of fish guiding experience in British Columbia. Paul has fished freshwater and saltwater since he was a kid growing up first in the US and eventually moving to Vancouver Island Canada in the fall of 1969.
He has guided in River's Inlet, Telegraph Cove and the Comox Valley. Paul moved to Gold River in 1994 after spending some time the summer before in Nootka Sound. Nootka Sound is a series of fiords that extend outward from Gold River and the surrounding communties to the open ocean of the Pacific. It was here that he caught his second "Tyee" (30+ lb) salmon. The first was caught in River's Inlet three years before. Since then he has lost count of the "Tyees" that he has caught and released.
He has been published by numerous magazines, including "Island Angler" and " Fish Finder Magazine" Paul has just completed a 5 year contract for Fisheries and Oceans Canada, where he was the Stewardship Coordinator for Nootka Sound. This position required that he create capacity in the small communities to address the issues surrounding fish and fish habitat. Paul is also very involved in the politics of sports fishing, having just stepped down in 2000 as the chair of the local Sports Fish Advisory Board.
Paul is single, with 6 sisters, 5 neices and 4 nephews. He was born 07/15/57 and prefers to fish for Chinook (Kings), Steelhead and Trout. Boats owned include 23 foot Bertram, 21 foot Bayliner "Trophy" and a 18 foot Sportsman.
For more information on Paul Smith,
visit his website or email him at pauls@bassonhook.com