Trophy Fishing in Arizona
By: Gregg Munck
---
If you were to make some random phone calls around the United States and Canada regarding trophy fishing hot spots in Arizona, what type of response would you expect to receive? Many folks would chuckle, then question…fishing in a desert? And then blurt out stuff like, rattlesnakes, cacti, road runners, Grand Canyon and gila monsters. Monsters, you got that right…monsters of the finned variety.
Fool Hollow Lake:
The production of Fool Hollow Lake Recreation area began in 1990 through a partnership with Arizona State Parks, Arizona Game and Fish, the United States Forest Service and the City of Show Low. The State Park officially opened in 1994 and is open all year-round. The best way to enjoy the park is to camp there. The park caters to both recreational vehicles (RV) and tent campers. There are 92 RV sites and 31 tent sites. The park is in the heart of the Apache-Sitgreaves National Forest with majestic 100-foot Ponderosa pine trees throughout the 850 acre facility. For more information about this wonderful State Park, just visit their website: www.pr.state.az.us .
Fool Hollow Lake happens to be my favorite trophy fishing spot in Arizona. Fool Hollow Lake is north of the town of Show Low, which is nestled in the White Mountains of Arizona at an elevation of 6,330 feet. This area does experience four seasons and they are usually fairly mild. The Show Low area receives the majority of its moisture during the months of January and February. Occasionally during our summer months we will receive a decent amount of moisture that is brought on by the monsoons.
In past years, Fool Hollow Lake would freeze or partially freeze over for a couple of months. This process would often begin in late December or early January. But in recent years, our climate has shifted and our winters have become quite a bit drier and warmer. During this season, Fool Hollow started to ice up in mid December but by the end of the month, a warming trend melted all of the ice. The 150-acre lake does allow gasoline engines and the maximum horsepower is 10, or the lake can be easily navigated with a trolling motor. The lake offers numerous types of structure. If you enjoy fishing timber, there are plenty of lay downs, and standing timber. You will also find many rock ledges. There are many flats and humps, and don't pass up the riprap on the dam. Many trophy fish settle in the weed beds for protection, and it also offers the veteran fish outstanding opportunities to ambush their prey.
The lake is home to a wide variety of fish including: smallmouth bass, northern-strained largemouth bass, walleye, northern pike, brown and rainbow trout, crappie, channel catfish, carp, bluegill, and green sunfish. Fool Hollow has plenty of high protein creatures to keep all these species of fish full and thriving. While fishing, you will always see crawfish and bluegill all over the lake. You will also see an enormous amount of rainbow trout on your electronics.
An important thing to consider while choosing a trophy lake is the forage. Make sure that the lake has a lot of high protein forage which is needed to grow and sustain trophy fish.
The Arizona Game & Fish Department (AGFD) does a tremendous job of stocking many lakes, reservoirs, streams, and rivers throughout the Grand Canyon State. The only species that the AGFD stocks in Fool Hollow is rainbow trout. They usually stock twice a month through the summer months and often in the fall. All of the Show Low area lakes including Fool Hollow will receive more fish when the AGFD has a surplus of trout and the water conditions are favorable. I always thank them for feeding my bass and walleyes so they will reach and maintain "TOAD" status. For additional information regarding Arizona's fishing regulations, etc., check out the AGFD website:
www.azgfd.com
.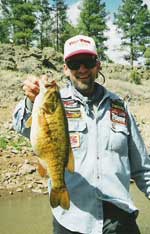 State Records Swimming in Fool Hollow Lake
The Smallmouth Record:
A few years ago, I was targeting smallmouth bass during the early pre-spawn period. I recall that the surface temperatures were in the mid forties so I decided to begin working the main lake points with a suspending jerkbait. After thoroughly working a couple of points with no bites or any activity, I decided to tie on a quarter ounce weedless June bug colored jig. I added a black plastic worm as a trailer to give the offering a little more action. After working the jig slow and steady through a submerged rock pile, I noticed my line begin to MOVE. I lowered my rod tip quickly and took up any extra slack so I could get a solid hook set. I took a couple quick measurements and realized that I had a monster sized smallie. She had a length of twenty-one inches and a huge girth of fifteen inches. I needed to take a photo, so I put the fish in my live well and gave her a short ride to the boat launch area. Next, I spotted the park manager and he gladly took photographs for me. Then, he helped me release the smallmouth.
This smallmouth ended up being Arizona's state record for the catch-and-release category, and still holds that distinction. ( The AGFD'S catch-and-release category is determined by measuring the length of the fish only.) If you weigh any fish on a scale, the AGFD feels that it is stressful, and any fish that an angler puts on a scale will be judged in the kept fish category.
The Walleye Record: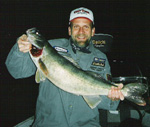 During a summer walleye night run in June of 2004, the water temperatures were pushing into the high seventies already. I began fishing with a suspending husky jerk (HJ10) rapala which will reach a depth of four to six feet. With the warmer water temperatures that we were experiencing, I thought that the walleyes would be more aggressive and willing to rise up and hit my suspending jerk bait. After working a few promising areas with no response, I decided to tie on a Yozurri deep diving jerk bait in the blue/silver color pattern and began re-working my promising spots. The deep diving lure enabled me to make contact with the rocky covered bottom. The walleye slammed the lure on the seventh or eighth cast after the lure made contact with the rocks. Once I took a couple of quick photos, I measured the walleye's length at thirty-three inches long and then I released the fish in great shape. The massive eye still holds the Arizona state record for the catch and release category.
More Fool Hollow Lake Trophies :
Here is a list of additional trophy fish that I personally caught and released in Fool Hollow Lake.
1.) 5 pound 8 ounce smallmouth bass.
2.) 5 pound. 14 ounce smallmouth bass. Both of the smallmouth bass received an In-Fisherman master angler award for region 3 ( Region 3 is eleven western states ).
3.) 10 pound 11 ounce northern strain largemouth bass.
4.) 11 pound 5 ounce northern strain largemouth bass.
5.) 6 pound 2.56 ounce smallmouth bass. This smallie and the two largemouth bass mentioned above were all featured in Bassmasters magazine. ( Lunker Club.)
6.) 29.5 inch winter walleye caught & released 12/11/2005. (I received a Big Fish of the Year award for 2005 from the AGFD. They also round down to the nearest inch.)
The above catches have all received some type of publicity. The photos were published in various news papers, magazines, and websites throughout Canada and the United States. I have caught and released many other trophy fish in Fool Hollow Lake, and so have a couple of my fishing buddies. Just because all those trophy fish didn't make it into the limelight and become a little famous, that is okay, because all I need is a photograph of the catch to treasure the memory forever.
Fool Hollow Lake is also one of the lakes that the White Mountain Bass Club has on their schedule for tournaments. The bass club has been around for 18 plus years, and the lake has taken the extra pressure in stride. A 7.58 pound largemouth bass is the largest ever caught and certified during an official tournament.
Conclusion:
Gregg Munck is a nationally recognized multi species trophy fisherman who has four Arizona State Records to his credit. Gregg lives in the White Mountains of Arizona near the town of Show Low with his wife and son.
Tight Lines!
Gregg
- Contact me with your questions or comments at gregg@bassonhook.com
---
Special Thanks To All Of Gregg Munck's Sponsors
(links available for the sponsors that are in blue)