The BIG BASS Bite, Rocks at Night!
By: Gregg Munck
---
If you are looking for an exciting and truly memorable fishing adventure that you won't soon forget, I would suggest that you schedule a bass fishing trip under the cover of darkness. I can't even remember how many years ago that I started launching my boat into the still of the night.
All of the top fishing guides and trophy fishermen in the country will certainly agree that night fishing is an important part of the trophy fishing equation. Make sure that you address all the safety issues before launching your boat in the dark. I like to cruise around the lake during the day so I am aware of any possible hazards that I will want to stay away from after dusk.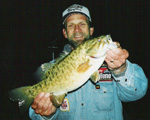 I have learned many valuable lessons over the years, during my nighttime fishing excursions. If you think that those line twists, baitcasting reel overruns, line wrapping around the tip of your rod, and other fishing mishaps only happen during the daylight hours, then you are sadly mistaken. You can multiply these problems when fishing after dusk. But on the other hand, after you stick that first TOAD, any of these tiny mishaps will seem like a minor inconvenience. Preparation is the key. You will want to bring extra spools of line, extra go-to lures, and remember to take extra rods and reels that are already rigged.
Here are a couple things to remember when choosing a lake for night fishing. The most productive lakes will have clear or lightly stained water. Lakes that experience intense fishing pressure are a good choice to try after dusk.
I often prefer to use the moon phases when targeting trophy bass. Sometimes I will start fishing three days prior to the full or dark moon phases. Other times, I will decide to fish the three days after the full or dark moon. I always keep a close watch on what the weather is doing before and during the moon phases. The recent weather patterns help me make my final decision on which nights I plan to fish. For instance, if a low pressure system is being forecasted to arrive just prior to the dark moon, then that is when you will find me on the water. And if you happen to be dealing with unstable weather leading into a full moon phase, I will fish two or three days before the full moon. If the bite seems to be negative, then I will wait and try again two or three days after the full moon, or simply focus on another body of water.
Let us take a look at the lures that have performed the best during low light conditions for me through the years. When I am targeting smallmouth bass, I like a ½ ounce short arm spinnerbait with a size four or five single Colorado blade and a black skirt. With the short arm spinnerbait you will be able to achieve maximum vibration from your offering. I prefer crawdad pattern crankbaits in chartreuse and orange colors with rattles. Remember that all lure's that are manufactured with rattles, do have a different frequency.
My choice for top water action is a black jitterbug. On certain nights when I want more commotion from my topwater presentation, I will throw a ½ ounce black buzzbait with a clacker. When I am interested in a more subtle presentation, I will use a 4 ½ inch black tubebait Texas rigged, weed less on a 4/0 Xgap Xpoint hook. Remember to insert a couple tube rattles so your bait will be easier for the bass to locate. I prefer to use suspending jerkbaits with a dark back and a light belly because they can be extremely productive when fishing a lake or reservoir that has shad or rainbow trout for forage.
When I happen to be pursuing largemouth bass, I will use the same crankbaits, spinnerbaits, and top water lures that are mentioned for chasing smallies. The main reason is so I won't have to stop fishing to retie my lures. On certain nights I will opt for larger lures when the smaller baits don't seem to be producing. When fishing the weed beds, I use black or dark colored frogs and rats, and stick rattles inside the lures. Swim baits are also included in my arsenal of lures. At times, it is hard to beat the vibration that is created by the swim bait.
. You really don't want to spend a lot of precious time fishing spots which have produced well for you during the day light hours. The bass won't be positioned in the same location after the sun goes down. I like to fish the main lake points, along shallow rip rap, and shallow weed edges. Don't forget to fish the shallow rock piles and ledges.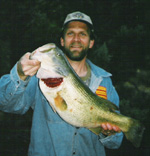 I also like to use glow-in-the-dark lure craft tape. I will cut small circles that will represent eyes, etc. Then I will apply a couple of thin coats of clear nail polish, because it will help keep the lure craft tape on the bait much longer.
While fishing at night for trophy bass, remember "slow and steady" is a winning approach. The lure will appear much more natural when it is moving along slowly. It also gives the bass more time to locate your lure. I believe that you should keep your boat noise to a minimum. I don't mean talking to your fishing partner. Try not to drop items on the bottom of the boat. And you do not want to run the trolling motor into any structure either. Any of these unnatural sounds will signal the fish that you are present. Always return to your prime spots more than once. All the fish in the lake won't move into the shallow water at the same time. So if you happen to be searching for that BASS of a lifetime, nighttime just might be the right time for you!
"Fish with the fire inside"
Tight Lines!
Gregg
- Contact me with your questions or comments at gregg@bassonhook.com
---
Special Thanks To All Of Gregg Munck's Sponsors
(links available for the sponsors that are in blue)