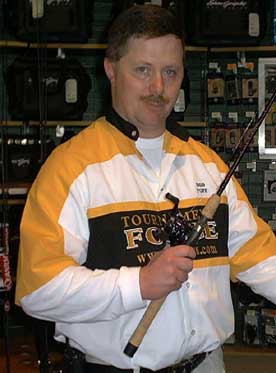 The Beginning:
I started fishing around the age of 5 when my father took me for the first time. I grew up in Industry, PA a small town north of Pittsburgh on the Ohio River. Living so close to the Ohio River, that is where a majority of my early days of fishing took place. My father and mother both liked to fish so we also went to Lake Arthur, Lake Erie and Pymatuming Reservoir (all Western Pa waterways) quite often.

The Learning Years:
After High School I went directly into the USMC which gave me plenty of opportunities to fish different waters from California Delta to the Neuse River in North Carolina. It was in North Carolina where I joined my first bass club, The Havelock Hawg Busters. We fished tournaments year-round so that gave me the opportunity to fish under a wide range of conditions, from steamy hot to freezing cold.
After I was Honorably Discharged from the Marines, I returned to Industry where I joined the Western Pennsylvania Bass Association and the South Hills Bassmasters (a club near Pittsburgh). Fishing both clubs enabled me fish with many different anglers and add to my knowledge of bass fishing. A year later I joined the Outcasts Bassmasters which was a local club that fished a lot of tournaments on the Ohio River, a body of water that I knew like the back of my hand.

In 1992 I moved to Oswego, New York, a town on Lake Ontario. There I joined the Port City Bassmasters, having to work 7 days a week I could not fish much for the first year. The following year I started the Oswego Bass Association which I served as President for 4 years the club grew to over 30 members and is still in existence today.

The Maturing Years:
In 1995 I started fishing The Redman Tournament Trail (now called the Walmart BFL) I was quite successful in many tournaments that first year. That is when I started to fish Redman Full time. I have been fishing Professionally now for 4 years, I fish the BFL, FLW, Everstart and Bassmaster tournament trails. I am also currently the tournament director of the U.S. Anglers Choice New York Division.

For more information on Bobb Popp, visit: his website or email him at bob@basschamp.com